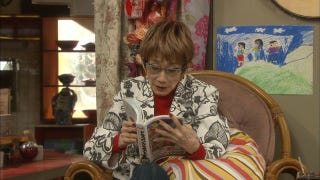 On January 11, famed actress Keiko Awaji passed away in a Tokyo hospital from esophageal cancer, reports Nikkan Sports. She was 80 years old. And she loved JRPGs.
Awaji has acted in over 160 feature films, including Akira Kurosawa's 1949 classic Stray Dog. Later in life, she became well-known online as a hardcore gamer—so much so that the Asahi News obituary is titled "Keiko Awaji, Film Star [and] Dragon Quest Fan, Dies at 80 Years Old."
Through her seventies, Awaji appeared on Japanese talk shows and radio programs, where she talked about her love of role-playing games like Final Fantasy, Earthbound, and Dragon Quest—especially Dragon Quest. Awaji would log impressive hours in her favorite games, leveling up her characters.
"I won't live forever. I'd like to play two or three more [Dragon Quest] games," Awaji said in 2009. "I really want them to put out a new game once every two years."