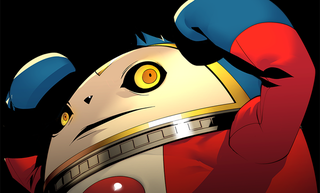 Persona 4 Arena Ultimax is out in stores in Japan right now, and once again, Atlus is asking that people be considerate.
If you access the Japanese Persona 4 Arena Ultimax homepage right now, you'll be greeted by an image overlay of the character of Teddy – or rather the shadow version of Teddy – telling people not to spoil the new fighting game.
"Spoilers for the story content of Persona 4 Arena Ultimax are strictly forbidden... Those who would ignore this warning shall be cursed with:

-'Being stuck in the corner of the screen and never being able to escape'
-'Having your character constantly accidentally counter-block, and thus having them continuously jump backwards like an idiot'
-'Having countless fan mail spam your mail account day and night'

and other cruel 'death' curses, and shall suffer for all time..."
as well as a direct plea from Atlus:
"'A request from Atlus'

We would ask that players refrain from posting story spoilers on video sites, live streams, and social networking services like twitter. Similarly, posting videos before release of the game is strictly forbidden. We ask that players be considerate so that others can enjoy our game as much as possible."
Spoilers. Serious business.
Atlus has previously asked the same sort of courtesy from gamers for their other Persona games, Persona Q and Persona 4 Golden.