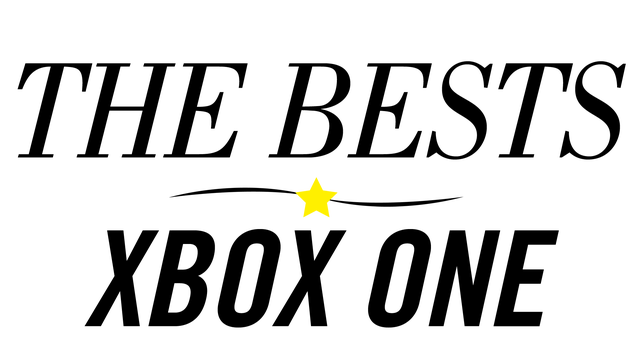 S
You're heading to the store to get an Xbox One right now, and need to know which games to get. (Land the plane, first, of course.) Or you're at work or in school, daydreaming about what you want to play next. Or maybe you're suiting up for a battle in the console war, cinching on your armor and trying to remember which games will best help you make the argument for Microsoft's new console. We are here to help.
As with most new consoles, the selection of games on Xbox One is a bit limited. With that said, there are still a good amount of fun games available to the discerning player. Below, find a list of the games we recommend for Microsoft's machine. We will, of course, be updating this list regularly as more games are released for the Xbox One. We've capped the list at 12, and in the months and years to come will remove old games to make way for new, better entries. Here goes...
You're sprinting around the battlefield, running on walls, jetpack-jumping over steep drops, and shooting at enemy soldiers. You press a button, and a giant robot drops out of orbit right in front of you. It grabs you and places you in its cockpit, and now… you're driving the giant robot, marauding through the same battlefield. You see your friend's giant robot and the two of you link up and storm the enemy base. That's Titanfall.
While that formula sounds like a winner—and it is—the real thing that Titanfall has going for it is that, well, it's just a hell of a lot of fun to play. It's welcoming to newcomers in a way that competitive online first-person shooters rarely are, and even the greenest players get to feel like they're contributing to their team's victories. The controls are incredibly well-tuned. The robot titans are fun to pilot but it's just as fun to be on-foot, thanks to the gymnastics, leaps, and wall-runs that the playable pilots can do. Exciting, satisfying, intense, and often hilarious, Titanfall is everything that a multiplayer action game should be.
A Good Match For: Anyone who's ever wanted to drive a giant robot.
Not a Good Match For: Those hoping for a game with a meaningful story, and those who really and truly aren't good at first-person shooters. While Titanfall is definitely more welcoming than your average online FPS, it's still a competitive skill-based game and the best players still come out on top.
Watch it in action.
Read our review.
Study our tips for the game.
Purchase From: Amazon | Wal-Mart | Best Buy | Gamestop
It'd be easy to dismiss the zombie horde-simulator Dead Rising 3 as a simple case of quantity over quality. Happily, despite the undeniably impressive hordes of the undead the game regularly throws on screen, Dead Rising 3 is as mechanically refined as the series has ever been. It's set in the walled-off sandbox of Los Perdidos, a thinly veiled Los Angeles stand-in that has become overrun with the undead. The gameworld isn't as big as you might expect, but it compensates for its stature with a welcome variety and verticality that makes it easy to spend hours just exploring. Dead Rising 3 is at its considerable best when arming you one of its hundreds of craftable weapons and tasking you with making your way through a horde of slow-moving shamblers, sort of like the world's best limb-lopping football running back. It rarely, if ever, gets old.
A Good Match For: Fans of wanton zombie destruction, B-movie enthusiasts, completionists, anyone who's ever wanted to drive a flamethrower-enhanced steamroller through a crowd of the undead.
Not a Good Match For: The squeamish or the easily frustrated. Dead Rising 3 falls down when it comes time to fight the game's bosses, dated-feeling damage-sponges who are likely to try the patience of even the most dedicated gamer.
Read our review.
Watch it in action.
Purchase From: Amazon | Wal-Mart | Best Buy | Gamestop
Everything is awesome, you guys. Everything is cool when you're part of the team. The Legoteam, that is—true to form, the game developers at TT Games have managed to take The LegoMovie's template and stretch it out to fit into a full-length video game. In the process, they've made things even bigger, weirder, and more subversive than the already big, weird and subversive film.
While the game's relatively brief campaign is a lot of fun, the real joy comes afterward, as dedicated players unlock the most unlikely hidden characters and replay levels in pursuit of more collectables and hidden surprises. Not only is The LEGO Movie Videogame the closest thing to an interactive Director's Cut of the terrific LEGO Movie, it's a wonderfully weird LEGOplayset in its own right.
A Good Match For: Fans of The Lego Movie or fans of LEGO in general. This game has even more LEGO in it than the other LEGO games.
Not a Good Match For: People with dried up prunes where their hearts should be, people who don't really like LEGO games. At this point, you pretty much know what you're getting.
Read our review.
Read our review of the movie it's based on.
Watch it in action.
Purchase From: Amazon | Wal-Mart | Best Buy | Gamestop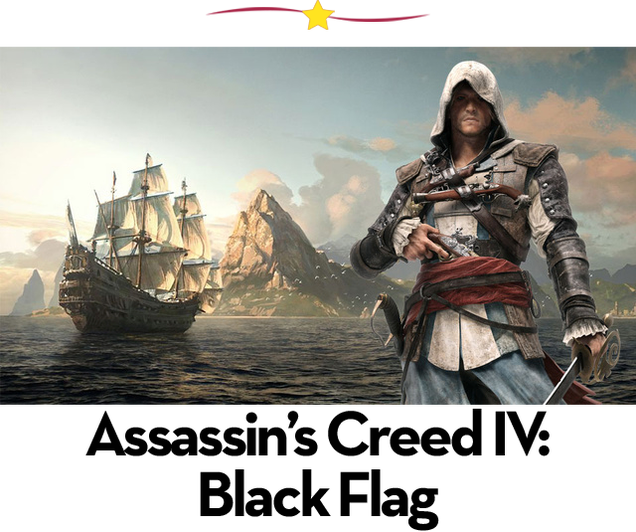 After years of changes both minor and major, the Assassin's Creed series had begun to feel in a rut. Finally this year, with the pirate-themed Assassin's Creed IV: Black Flag, the series has taken a major and unequivocal step forward. It doesn't lose all of the series' bad habits—hello, follow missions—but it improves many longstanding problems with better stealth, easier-to-navigate cities, and sidequests that actually feel like they help make your character more powerful. Best of all, it adds naval combat and a vast Caribbean overworld that make the game feel like, in the words of Luke Plunkett, "Wind Waker for grown-ups."
The next-gen version of the game looks incredibly good, and while the Xbox One version lacks the PS4's 1080p resolution, it still looks plenty nice. Add on the excellent single-player expansion Freedom Cry and Assassin's Creed IV becomes a cinch to recommend.
A Good Match For: Pirate fans; history buffs; anyone who's ever wanted to pull up alongside a British frigate, grab a rope and swing from one deck to the other before fighting their way up the deck to take on the captain. Basically, anyone who's ever wanted to be a pirate.
Not a Good Match For: Those who demand precision controls. The on-foot controls in Black Flag are probably the best of the series, but they're still a far cry from where a third-person stealth/platformer should be. It's time for a crouch button, Ubisoft.
Read our review.
Watch it in action.
Study our tips for the game.
Purchase From: Amazon | Wal-Mart | Best Buy | Gamestop
Strider isn't really one for ceremony: You're thrown into the action with essentially no narrative BS or tutorial, nothing like that. You're a guy with a sword, your job is to wreck all the cyber-soldiers and other various bad guys in your way. Then again, do you really need any more story than that? Not really, not when the game is as fundamentally enjoyable as Strider—which really just feels right. It plays like a particularly groovy memory of the classic NES version, a sort ofNinja Gaiden meets Super Metroid thing that, well, is about as cool as that description sounds.
A Good Match For: Fans of ninjas, fans of robots, fans of Strider.
Not a Good Match For: Those looking for something casual to pick up and play; Strider is never unfairly punishing, but it can be a difficult game.
Watch our impressions of the game.
Purchase From: Available digitally from the Xbox One Store
Snake is back, and he's wondering if he kept you waiting. He may not be back for very long—the story bits of Metal Gear Solid V: Ground Zeroes don't feel substantial enough to earn the "V" in the title—but Snake is most certainly back, and he isn't messing around. Ground Zeroes is the kind of game that, as long as you're cool with what you're getting, can be a whole lot of fun—it's basically a medium-sized stealth chemistry set that lets players experiment with all of the new bells and whistles director Hideo Kojima will add for the upcoming Metal Gear Solid V: The Phantom Pain. More than an appetizer but less than a full dish, Ground Zeroes is still enough to entertain and satisfy most Metal Gear fans.
A Good Match For: Stealth buffs, Metal Gear buffs, people who like playing things over and over until they get them perfect.
Not a Good Match For: The faint of heart, or anyone looking for the actual Metal Gear Solid V. As much fun as Ground Zeroes is, it is far too short to earn the "MGSV" in its title, and is less a proper entry in the series and more of an enjoyable stopgap/tech demo on the road to The Phantom Pain. It also features some horrific violence, much of it sexual, almost all of it directed toward its sole female character.
Read our review.
Watch it in action.
Purchase From: Amazon | Best Buy | Gamestop
Need for Speed: Rivals takes the trademark speed-obsessed arcade racing of the Need for Speed series and dials up the jerk-o-meter, casting players as either a street-racer or a cop out to ruin one another's fun. It's one of the most gorgeous next-gen games out there, offering solid performance and beautiful 1080p graphics, sure. But the real draw is the gameplay, that trademark sense of speed that'll have you whooping and fist-pumping as you pull off impossible jumps and daring escapes. Easily one of the most flat-out enjoyable next-gen games available, and a great showcase for new gaming hardware.
A Good Match For: Speed freaks, jerks, people who like ramping a car off of a cliff while pop music plays, anarchists.
Not a Good Match For: Anybody who wants a game with characters they care about. Everyone in Rivals is a jerk, and the dialogue is just so, so awful.
Read our review.
Watch it in action.
Purchase From: Amazon | Wal-Mart | Best Buy | Gamestop
The sequel Popcap's much-loved ball-plonking simulator Peggle is basically… well, it's basically more Peggle. But that's no bad thing, particularly when dipped in the sort of shiny production values seen in the new console version. Shimmering surround-sound and a lovely, adaptive musical score all help amplify the game—Peggle might not need big-budget production values, but it benefits from them nonetheless. The recent free addition of local multiplayer makes an already fun game even more fun. Peggle 2 may not be the ultimate way to show off your new next-gen console's horsepower, but it's one of the most laid-back and pleasing ways to enjoy the system.
A Good Match For: Peggle nuts, anyone looking for a fun way to kill time with a friend, classical music fans.
Not a Good Match For: Anyone looking for a hardcore graphics showcase for the Xbox One, Beethoven-haters.
Read our review.
Watch it in action.
Purchase From: Available digitally from the Xbox One store.
One of the showpieces of the Xbox One, Ryse: Son of Rome looks great and plays pretty well. The graphics likely have broader appeal, but there is decent depth to the game's reaction/combo-based combat system. The game tells the story of a Roman soldier who becomes disaffected by the rule of the emperor Nero. While the narrative beats may not surprise, the game's setting is fresh and helps Ryse feel like a worthwhile vacation from drearier blockbuster adventures. A co-op multiplayer arena battle mode extends the value of the game.
Ryse is incredibly gory, by the way. That may or may not be your thing. We don't recommend it for the gore, but we can't deny that there's a satisfying crunch to the combat that makes this game one of the more fun and spectacular Xbox One games available at launch.
A Good Match For: People who like the spectacle of a Call of Duty or even a God of War campaign but would like a change of scenery.
Not a Good Match For: People who are looking for more than a rental's worth of content.
Purchase From: Amazon | Wal-Mart | Best Buy | Gamestop
Who is Plants vs. Zombies: Garden Warfare for? It's for people who A) like Plants vs. Zombies and B) like hardcore online multiplayer shooters. Basically, weirdoes. Not a huge group, but if you fall within that small sliver of the venn diagram, you'll find a game that's easy to love and difficult to stop playing. The Xbox One version comes with an extra mode that lets you and a split-screen buddy fight off waves of oncoming zombies, Gears of War horde style. Goofy and rambunctious like a Saturday morning cartoon; and just as colorfully violent, too.
A Good Match For: Shooter fans or the shooter-curious; Garden Warfare is a great way to get into online multiplayer.
Not a Good Match For: Casual players who love Plants vs. Zombies but have never played/don't like online multiplayer games.
Read our review.
Watch it in action.
Study our tips for playing the game.
Purchase From: Amazon | Wal-Mart | Best Buy | Gamestop
Who needs arms and legs to be the star of a brilliant platformer? Not Rayman. The second game in the resurrected cartoon action franchise still sports an incredibly lush art style but also shows off sharp ideas and a ton of variety. It makes the leap to next-gen consoles in predictably fine fashion, with an absurd amount of slappy, goofy game to go around.
A Good Match for: Co-op fanatics. Legends is a very good game for solo play but it's great for folks to team up and take on.
Not a Good Match for: Those wanting turn-your-brain-off platforming. Rayman Legends' occasionally challenging difficulty requires quick reflexes. For the most part, there's no coasting here.
Read our review.
Watch it in action.
Purchase From: Amazon | Wal-Mart | Best Buy | Gamestop
Everyone likes Die Hard, right? What if instead of a dangerous skyscraper with a Japanese name, that movie had taken place on a dangerous island with a Japanese name? What if instead of John McClane with no shoes, it had starred Lara Croft with no sleeves? "Now I have a bow and arrow… ho ho ho." And so we have Tomb Raider, an action-minded reboot that forcefully injects new life into the beleaguered Tomb Raider franchise. The "definitive" next-gen version of the game is just that, a better-looking version of last year's already good-looking game.
A Good Match For: Bow-hunting enthusiasts, wolf-haters, anyone who wants a game that'll show off the graphical prowess of their new next-gen console.
Not a Good Match For: The squeamish, wolf-lovers, those who have already played the 2013 game. The Definitive Edition is lovely looking, but it doesn't add any new gameplay or feel all that different from the game that came out last year.
Read our review of the original and our thoughts on the Definitive Edition.
Watch it in action.
Purchase From: Amazon | Wal-Mart | Best Buy | Gamestop

How has this list changed? Read back through our update history:
Update 4/17/2014: Three games enter, two games leave. Our list hits its limit of 12 games, with Titanfall, The LEGO Movie Videogame and Metal Gear Solid: Ground Zeroes walking on while Powerstar Golf and LEGO Marvel Superheroes exit.
Update 3/10/2014: Four games walk on to the list: Rayman Legends, Strider, Plants vs. Zombies: Garden Warfare and the newly multiplayer'd Peggle 2 bring our grand total of games up to eleven. One more and we'll be at twelve, and will have to start cutting games to make additions.
Update 2/14/2014: Our first addition to the Xbox One Bests list is the lovely-looking Tomb Raider: Definitive Edition. Go, Lara, Go.

Want more of the best games on each system? Check out our complete directory:
The Best PC Games • The Best PS4 Games • The Best Xbox One Games • The Best Wii U Games • The Best 3DS Games • The Best PS Vita Games • The Best Xbox 360 Games • The Best PS3 Games • The Best Wii Games • The Best iPhone Games • The Best iPad Games • The Best Android Games • The Best PSP Games • The Best Facebook Games • The Best DS Games • The Best Mac Games • The Best Browser Games • The Best PC Mods