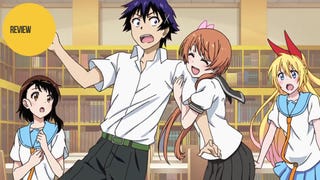 Nisekoi reads like a "cliché romance-comedy anime" checklist: A harem of girls? Check. A long lost childhood love? Check. Characters who hate each other falling in love? Check. An endless cycle of "will they won't they?" Check. All in all, it embodies the very essence of a modern rom-com anime.
Good – Childhood Love Versus Forced Fake Romance
Nisekoi is a series built on two common Japanese romance plot setups. The first of these is the "long lost childhood love" premise. When the male lead, Raku, was a young boy, he spent a summer playing with a girl. At the end of their time together, they promised to marry when they grew up. To signify the promise, the girl gave Raku a locket which can only be opened with the key she kept. By the time of the series, he has yet to meet her again and can't even remember her name or face—despite still wearing the locket everyday. Of course, that doesn't mean there isn't a mysterious key or two being held on to by the girls around him.
The other setup is one of two people who hate each other forced into a situation where they must pretend to be lovers. In this case, Raku (who is the heir of a yakuza family, by the way) is forced to go out with Chitoge, the daughter of a rival family, to prevent all-out gang warfare between their families. As their fathers put it, the only thing able to stop the gangs' hatred for each other is the romantic tale of star-crossed lovers.
Of course, these two plot setups don't exactly coincide peacefully—which is largely the point. A lot of the good fun in Nisekoi comes from these two common romance plots colliding in comical ways. Moreover, the constant swapping between the two plots serves to add more than a little variety to the overall story as well as keep the anime moving at a good pace.
Mixed – The Four "—deres"
There are four romantic foils for Raku in the series: Chitoge, Kosaki, Tsugumi, and Marika. Each of them embodies one of the four common female character types seen in anime and manga.