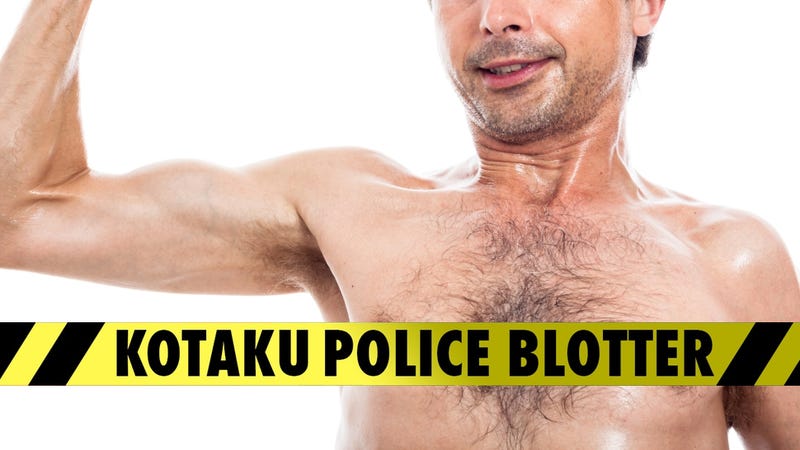 ---
He's Fed Up and Wants Answers Now, Dammit
LORAIN, Ohio—James Powell, 29, provides this lesson in how to make a bad day worse. Returning to his home around 10:30 p.m. to find his TV, Xbox (naturally, variety not specified) and iPad missing, Powell grabbed his handgun and went door-to-door around his block, interrogating his neighbors. Naturally, he did so shirtless. (In the immortal words of John Madden: "You don't want to be the guy on COPS with no shirt on.") Police arrived and ordered him to drop the weapon, which he did. Powell was given a summons for "inducing panic." Cops did investigate his home for clues to a potential robbery; they discovered an air conditioner had been removed and found fingerprints on the glass. Authorities said the neighborhood had been victimized by several robberies recently. [The Chronicle-Telegram of Elyria, Ohio.]
---
Cops: Friend Executed Over Stolen PlayStation Plan Gone Bad
PHILADELPHIA—Police here say a 19-year-old shot his childhood friend execution-style because he had been cut out of the proceeds of the sale of a stolen PlayStation 3—all of $60. Malik Anderson conspired with Daquan Crump, also 19, to steal the console from another friend, cops said. Crump, however, just up and stole it by himself, selling it and keeping all of the money. Police say Anderson lured Crump to a construction site and, while he wasn't looking, shot Crump in the back of his head. The he stood over Crump's body and emptied several more rounds into him. "In their mind, this is worth a human life," Homicide Capt. James Clark said at a news conference announcing Anderson's arrest. "Because I didn't get a cut of a $60 profit from a used PlayStation game, I'm going to stand over top and shoot a kid that I've been friends with since I was 10, 11 years old," Clark said. [The Philadelphia Daily News]
---
Look, He Said He Was Sorry
LANCASTER, Pa.—State police are searching for a man they say broke into a home near here, stole a PlayStation 2, some video games, and thousands of dollars in jewelry, but left a handwritten note apologizing for the crime. William Harrison Rehm III is wanted in connection with the burglary, but he is not in custody. He also siphoned off several gallons of gas from an outside storage tank. [The Intelligencer Journal of Lancaster, Pa.]
---
Apparently the Xbox had Cartridges?
The following is verbatim (but the boldfaced emphasis is mine.)
"YOU READ IT HERE FIRST: A Saddle Brook resident returned from vacation yesterday to find that a burglar had cut the electrical power to his home before bashing open his front door and fleeing with an Xbox and assorted cartridges valued at $1,000, police said this morning." [The Cliffview Pilot, Westwood, N.J.]
---
Update: Deandre Liggins, the NBA player accused of beating his girlfriend and dropping an Xbox 360 on her head, was released by his now-former team, the Oklahoma City Thunder.
---
Lots of strange things happen in the pages of your local newspaper or on the 6 o'clock news. If you see something, say something. To me, that is. I'd like to write it up. Remember: You need not reveal your identity.
To contact the author of this post, write to owen@kotaku.com or find him on Twitter @owengood.
Image by Jan Mika/Shutterstock.