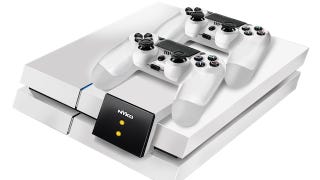 If you're looking for more elegant ways to charge your DualShock 4s and Xbox One controllers, we've got some creative new spins for you.
The Nyko Modular Charge Station plugs directly into the Playstation 4 and lives on top of it, saving space in the process. We were told the white version is a Gamestop exclusive, but it's available for preorder on Amazon for $5 less than Gamestop.
Update: The White Charge Station is a timed Gamestop exclusive and will ship near the Destiny launch, and not from other retailers until near the end of October.
The Modular Charge Station relies on plugging the same dongles into the DualShock 4 used by the Nyko Charge Base we mentioned a while back, which are also compatible with the Nyko Power Pak discussed in the same article.