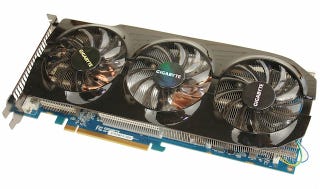 The graphics card(s) you choose for your new rig tend to be the most expensive component, and they don't come cheap. We find that the best cure for wallet pain is free video games, and today we've got a lot of graphics card options for you to choose from, that include up to 6 highly-regarded titles at no additional charge. Overclock your savings after the jump.
Update: Looking for something a little less high-end and a lot less expensive, but still want free stuff? Check out the GeForce GTX 650 and its permutations. Buy a qualifying 650 to receive $75 in in-game credit split three ways across Hawken, World of Tanks, and Planetside 2. Click here and select "Find out more" in the NVIDIA box. [Amazon]
There are promotions going on for both AMD and NVIDIA cards, and while we're going to focus on the AMD promotions, you're not out of luck if you want NVIDIA. Like we covered yesterday, invest in the NVIDIA GTX 660 or better, and you'll net yourself a free copy of Metro: Last Light. To view all the options, hit this link and click "find out more" in the NVIDIA promotion box.