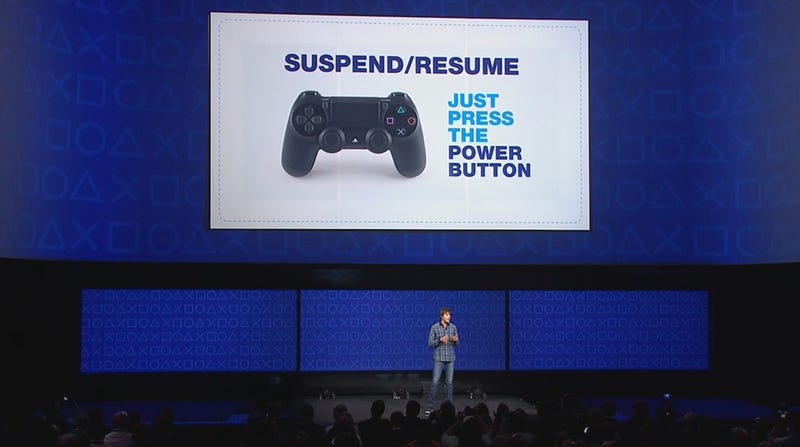 Way back in February of 2013, Sony indicated that the PS4 gamers would be able to put their console in sleep mode while playing a game and briskly return to it later. They also said that gamers could enlist a friend to take over a game via the Internet from another PS4.
The PS4 currently does neither of these things.
Scuttled features? No, says Sony.
"Our team has been working on it," Sony's head of worldwide studios, Shuhei Yoshida, told me last week when I asked, first, about the friend-takes-over-your-game feature. "There are some things that we announced in February of last year that were not planned for the launch timeframe."
He said the suspend feature is in the same category.
"It's not ready yet," he said.
And when will either be ready? "I am asking the same question to my tech team every other week. Because every day I get reminded by lots of people: 'Where is this? Where is that?' It's a great reminder for me."
Going back to February of 2013 for a moment, this is how Sony described the suspend/resume feature:
PS4 radically reduces the lag time between players and their content. PS4 features "suspend mode" which keeps the system in a low power state while preserving the game session. The time it takes today to boot a console and load a saved game will be a thing of the past. With PS4, gamers just hit the power button again and are promptly back playing the game at the exact point where they left off.
And this is how Sony's Dave Perry talked about the take-over-the-game feature back then. This was part of Perry's description of how Sony would make gaming more shareable (emphasis added by me):