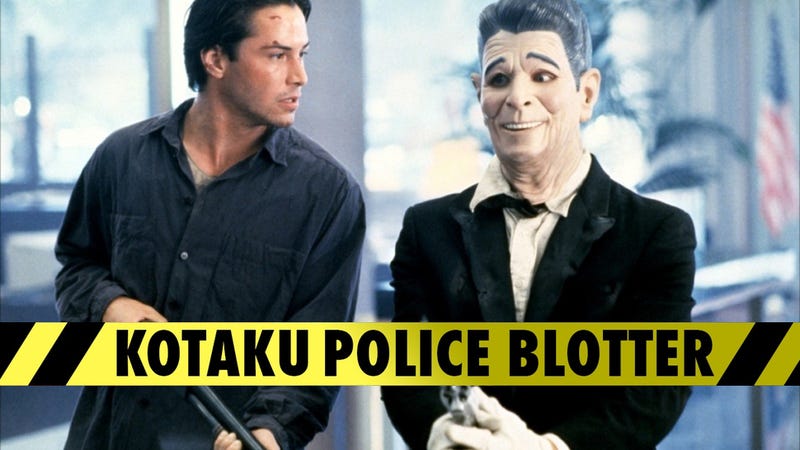 ---
Rob One for the Gipper
PALM DESERT, Calif.—A clown and Ronald Reagan robbed a GameStop here on Saturday—or, that is, two guys wearing clown and Ronald Reagan masks robbed the GameStop. Police say the two suspects, currently at large, stormed into the store and brandished a silver-colored handgun with a black grip before making off with a PS Vita, three PSPs and "an undisclosed amount of money." The suspects fled in an older model white Honda Civic. Both suspects are 5-foot-7 and about 200 pounds, cops said. The real Ronald Reagan, who died in 2004, was 6-foot-1 and 180 pounds. [Palm Desert Patch]
---
Foul Play at the Fair
HARRISBURG, Pa.—Somehow someone managed to steal 217 "PlayStation 3 and Xbox" (console type unspecified, of course) video games from a stand at the Dauphin County, Pa. fairgrounds last week, and remain completely undetected in so doing. The games were all new and still shrinkwrapped. The loss was valued at $5,000, or an average of $23 per game, so maybe some of them were original Xbox. Who knows. [The Patriot-News, Harrisburg, Pa.]
---
A Steal at Twice the Price
CHARLESTON, S.C.—Five months after her "Xbox console" (actual model, of course, unspecified by the writer) was stolen, 33-year-old mom of two Erin Ashley bought a replacement from a local pawnshop. Guess whose old console it was. Ashley said her sons discovered their old profiles and gamesaves within moments of plugging in the system, purchased for $139. The Xbox was stolen, along with a Wii "various games," some guns and, curiously, bedding during an April break-in. Ashley has to get a cop to accompany her to the pawn shop and tell the store the property is hers before it will issue a refund for her purchase, but the store seems cooperative nonetheless. It said a Wii for sale in their store probably is hers, as it was pawned by the same person who pawned her Xbox. [Charleston, S.C. Daily Mail]
---
Which One of These Things is Not Like The Other?
MONTGOMERY, Ala.—Someone broke into a home here a couple weeks back and stole a PlayStation 3, a bunch of video games, a flat-screen TV, five rings, and "assorted hygeine products." All items except for the rings were recovered. [Montgomery (Ala.) Advertiser]
---
Lots of strange things happen in the pages of your local newspaper or on the 6 o'clock news. If you see something, say something. To me, that is. I'd like to write it up. Remember: You need not reveal your identity.
To contact the author of this post, write to owen@kotaku.com or find him on Twitter @owengood.