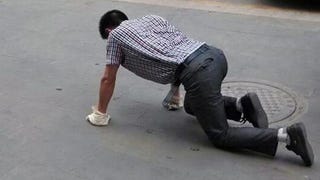 In Sichuan, China, three supervisors at an interior decorating company crawled on their hands and knees for over half a mile after failing to meet sales targets.
They weren't alone in the shaming: One female employee was forced to shave her eyebrows to repent. However, she was not forced to crawl around the city streets, but apparently, did so as an act of self-inflicted punishment.
According to WCC Daily, the general manager said he would crawl a half a mile if the company didn't make their sales target. The company didn't, and there were also discrepancies in the accounting, so the manager got two other execs to join him.
"The temperature was 104 degrees," said one witness quoted by WCC Daily. "It was like they were masochistic." Witnesses to the scene expressed shock as this sort of thing isn't that common (though, it did happen last year at another company).