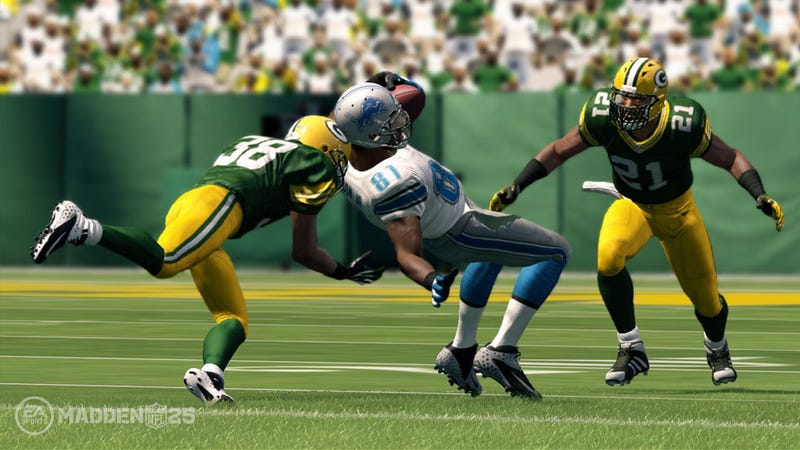 Last week, Madden NFL 25 announced an "Anniversary Edition" that at first didn't seem like it had much to offer. Then word started to circulate in an officially unofficial way that a promo code could be used to watch DirecTV's Sunday Ticket NFL broadcast on a PC, with or without signing up with the satellite provider.
Well, this being Madden, this being big bad Electronic Arts and, more relevantly, this being the NFL and its less-than-consumer-friendly TV policies, few believed it. After all, the official news release doesn't straight up say this is how you can use the offer, which seems to be more about giving a discount toward a DirecTV subscription. The code, which gives Sunday Ticket access on PC, tablet or mobile phone, is referred to more or less as an alternative for those who cannot receive DirecTV service. Considering DirecTV has 35 million subscribers, there would seem to be few in America who can't get it, but it's true in the case of dorm rooms and some apartment buildings where you can't mount a dish.
So, through the past week word spread that this was going to be a screwjob. You'd buy a hundred-dollar Madden and be unable to use the thing you really wanted because DirecTV would know, by zipcode or IP address or whatever, that its service was available to you.
I'm not ordinarily in the business of policing special edition offers but this one, being enticing to me on a personal level (I have no cable or satellite TV but watch a ton of sports over the Internet), was interesting enough I went to the man putting his name on this unofficially official offer: Anthony Stevenson, Madden's top marketer.