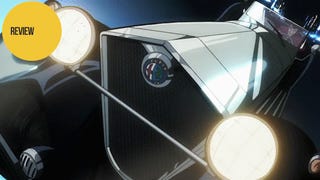 When you think of great anime detectives, Detective Conan is probably the first one to come to mind. And when you think of great anime criminals, you probably think of Lupin III. So it's no surprise that Lupin and Conan are starring in Lupin III VS Detective Conan: The Movie which opened last weekend in Japan.
Good – About as Crazy as You'd Expect
As both series are filled with crazy gadgets and feature equally over-the-top crimes, these two series are a great match in tone and scope. There are shootouts, car chases, super soccer balls, and motored skateboards all over the place. It is a movie filled to bursting with the antics you would expect from a crossover between Lupin and Conan.
But the best parts of the film come in the form of interactions between the characters of the two different series—especially Jigen and Conan, where Jigen is forced to play the role of Conan's father. The interactions between Ai Haibara and Fujiko talking about their respective lives of crime are also a real treat.
Mixed – Clashing Art Styles
Instead of picking either the Lupin art style or the Conan art style—or a merging of the two styles into something in between—Lupin III VS Detective Conan instead presents the characters in their original respective art styles. For the most part, the art styles of the two shows don't clash too badly in wide shots. But whenever characters from each series share a closeup, the differences are quite distracting.
This is not only due to things like eye shape and hair style, but also due to the fact that the Lupin characters have stronger shading and much thicker character outlines. It's annoying to be pulled into the movie and then ever so often get knocked out of it because you can't help but think it doesn't look right.
Mixed – Going Down a Checklist
A little background: I have seen a lot of Lupin III—though admittedly not all of it. As for Conan, I have only seen the first 30 or so episodes and have only rarely caught the more recent episodes (though I really loved the live-action specials). So while I was rather up to date on everything Lupin, my Conan knowledge was rather lacking—and as more and more ancillary characters showed up for their 10 seconds of action, it really began to show.