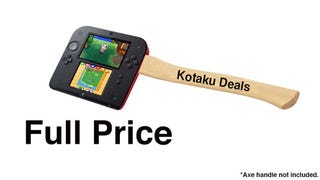 The 2DS is a very low barrier to entry to the great library of 3DS games. Today the barrier is even lower at just $100, with options.
---
Get these deals and more, and earlier on Deals.Kinja. Connect with us on Twitter and Facebook to never miss a deal, check out our Gaming and Movie/TV release calendars to plan your upcoming free time, and join us for Kinja Co-Op to vote on the best products. Got a deal we missed? Post it in the comments with a link and we'll share right to our Deals homepage.
---
By now, you should know that the Samsung 840 EVO is one of the best SSDs you can buy, and the 250GB model is only $119 today, and the 500GB model is down to $200, both the lowest prices Amazon has ever offered.
Samsung 840 EVO 250GB SSD, $119
Samsung 840 EVO 500GB SSD, $200
Grab one to drop in your PS4 or PS3 while you're at it.