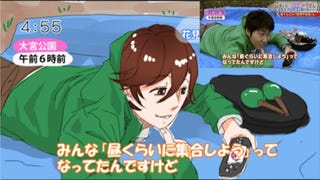 It's springtime in Japan. That means, friends and family gather to sit under cherry blossoms and eat, drink, and be merry. This guy, however, is all alone.
On Japanese television, people were being asked what time they arrived to get a spot to enjoy hanami (花見) or "cherry blossom viewing."
"I got here a little before 5am," said the guy in the green jacket. "Everyone was like, 'Let's get there at around noon,' but only my meeting time was 5am."
In Japan, the meme is being called "I'm the only one from 5am." (俺だけ5時から or Ore dake 5-ji kara).