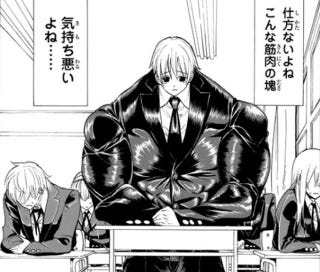 What... I don't even... How...
So... Yeah. Mr. Macho/My Classmate is a manga that got a bit of traction on the interwebs in Japan recently because of, well, just look at it. Hearing the hubbub online, I had to see it for myself, and it turned out to be a hilariously entertaining read.
What It's About
Yuu Bakuryusai is a shy, withdrawn high school student with an abnormally well-developed physique. Thanks to his muscular form, he is constantly alienated from his classmates and targeted by delinquents who want to prove their strength by beating him in combat.
Ever depressed, Yuu finds his life changing for the better for the first time when he meets Haruka Tsujizono, the only classmate who doesn't either run away from him or attack him. Unfortunately, his affections for Haruka put her in danger as Yuu's enemies see her as an exploitable weakness.
Review
Mr. Macho is your standard Japanese slapstick romantic comedy with a twist, and honestly, that twist is so outlandish, it works. The physical – heh heh – comedy involved is mindless and simplistic, but genuinely fun.
For the most part, the characters are rather generically flat personality-wise. Yuu is your generic meek weak-willed pansy and Haruka is your basic tsundere heroine. The cast of side characters is equally unsurprising in terms of archetypes for anyone familiar with Japanese rom-com manga, but the humor more than makes up for the blandness of the characters.