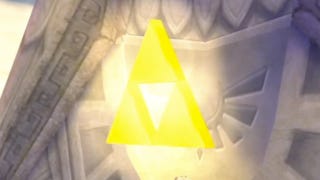 In Japan, there are family crests called "kamon" (家紋). They're similar to a coat of arms in the West. One Japanese Twitter user claims to have changed his family's crest to a familiar mark: The Legend of Zelda Triforce. Apparently, the iconic symbol even ended up on the family's gravestone.
According to Twitter user @mahosyouzyo, "A relative passed away, and I was asked for an idea for a revamped family crest." The grandfather (I'm assuming the grandfather passed away) had always wanted to redo the clan's kamon for many years, the Twitter user explained. And @mahosyouzyo's design, it seems, was actually used by the family and even apparently carved into the relative's gravestone.
"It's like Zelda," wrote another Twitter user. "Yep, what you said, lol", replied @mahosyouzyo, who agreed that it was a Triforce and claimed to be the most surprised about the end result—namely, where the design ended up.
(Note: as several readers have pointed out, Gunpei Yokoi's tombstone also has a Triforce.)