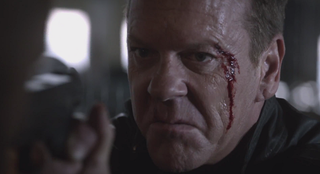 Last night's episode of 24 contained two important revelations.
1) There is a mole, because we can't get to episode 6 of any season of 24 without a mole. More on that in a bit.
2) For the past two years, while Jack has been off the grid, he's been playing vigilante and taking down criminal masterminds while working undercover for a terrorist arms dealer. Somehow, nobody has noticed that these criminal masterminds keep disappearing, and everyone in the underworld just trusts Jack.
"This time I've been doing it for me," he tells his new partner Kate Morgan. Shades of Walter White, except instead of making meth he shoots people in the knee.
The bulk of this episode—a great one!—involves Jack convincing his former arms dealer boss to log into a bank account and inadvertently upload a virus that Chloe will use to track down his connections to Lady Big-Bad Terrorist Catelyn Stark. To kick off this crazy plan, which, like most of Jack's plans, involves TAKING THINGS TOO FAR, Jack decides to pretend he has kidnapped and drugged Kate, who, being a team player, goes and sticks a propofol needle into her own neck. This is a serious turn-on for Jack, who immediately has to unload some steam by killing two terrorists.
Jack does his thing with Terrorist Arms Dealer and convinces the terrorists he's back undercover with them. (Just like in season 2, and 3, and 4, and...) There's a tense exchange where Jack has to do some hardcore bluffing, but he rolls a 20 and nails it. While this is happening, some thugs interrogate Kate for a while, because she'll never really evolve into the true Lady Jack Bauer without getting tortured a few times.