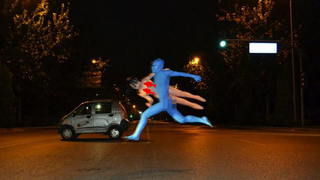 Recently, a naked man painted in blue paint carrying a blow-up doll was spotted running around Beijing. And yes, photos ended up online.
Warning: This article contains content some readers might find objectionable.
Online in China, the press has been making comparisons to the James Cameron film Avatar (for example, here are major Chinese sites QQ, iFeng, Yesky, and Sina all making Avatar comparisons). I don't remember a sex doll in Avatar. I do remember blue people.
If this seems vaguely familiar, that's because in 2013, a naked man running across a Beijing street with a blow-up doll drew comparisons to Temple Run. At that time, people in China wondered if this was some kind of publicity stunt or an artistic statement—turned out it was an artist who even rode around naked with a giant cross.