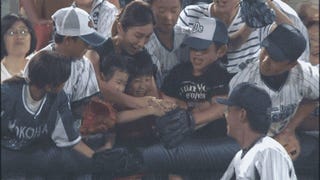 Recently, the above GIF has been appearing on numerous Japanese sites. Commenters have been criticizing the woman based only on this animated image. But what's going on? Time to delve deeper.
The incident happened recently at a game between the Yokohama DeNA Baystars and the Chunichi Dragons. The Baystars are owned by mobile game company DeNA. The Chunichi Dragons, of course, appeared in Mr. Baseball.
Here, you can see the full incident as a player gives a group of kids a ball as a present.
On 2ch, Japan's largest forum, the GIF that resulted from this incident was called "too cruel," giving people online a chuckle at what they thought was a ridiculous adult.
There have been other incidents of this in Major League baseball. Lots of them.