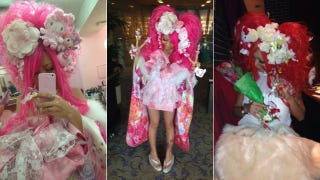 Brace yourself Japan! You have some new, fully fledged members of society with truly outrageous fashion.
Today is Coming of Age Day (成人の日 or Seijin no Hi) in Japan. It is for all of the country's youth who turned 20 years old in the past year. They are now officially adults and fully-fledged members of society.
Most young adults celebrating the day dress up in fancy kimonos and drink booze (the drinking age is twenty in Japan). That's typical. Members of gal circle (club) Black Diamond are anything but.
Black Diamond is basically a group for young women who are into tanning, super long nails, and colorful clothes.