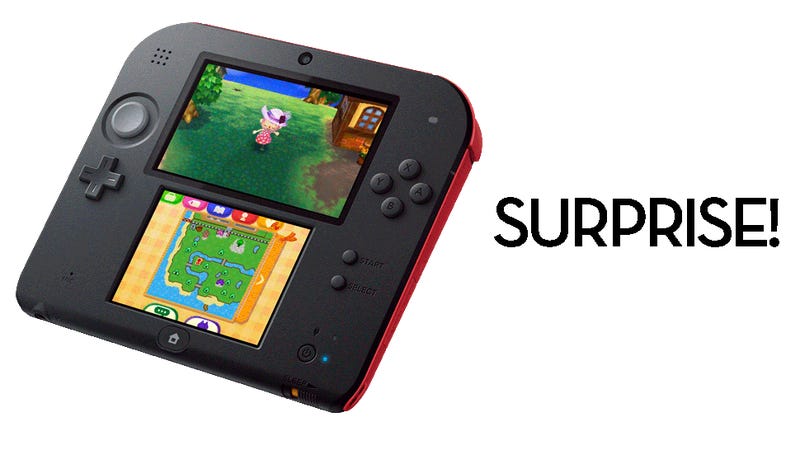 Nintendo will be launching a new portable gaming system in October. It's called the Nintendo 2DS. It's a 3DS without the 3D, and it's shaped like a thin piece of cake.
"This is an entry-level handheld gaming system," Nintendo of America president Reggie Fils-Aime told Kotaku earlier this week when we got our hands on the unusual device.
THE DETAILS
The system is compatible with all 3DS and DS games. Its two screens are the same size as those of the original 3DS, smaller than those on the Nintendo 3DS XL. The 2DS' upper screen will not render graphics in 3D, though the system's two outward-facing cameras will still take photos and video in 3D, saving those files on a memory card so that they can be transferred to hardware that does display stereoscopic 3D imagery.
The system launches on October 12 in North America, the same day as the release of the first major next-gen handheld Pokemon games, Pokemon X and Y. Those games will only work on post-DS systems, a line that now includes 3DS, 3DS XL and 2DS.
The 2DS will sell for $129.99 and will be available in red or blue. That price makes it $40 cheaper than the Nintendo 3DS and $70 cheaper than the Nintendo 3DS XL (and recently price-dropped PlayStation Vita).