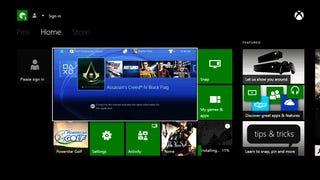 We wanted to test the install times of both new consoles, so we plugged a PS4 into an Xbox One's TV input and watched them race to install a game. You can see in our video, there's a big difference in the two systems.
Both the Xbox One and PS4 require all games to be installed from the disc, due to the increasing size of games and the relatively low speed of optical drives. So both consoles have a feature that allows you to launch a game as soon as enough content is installed to begin running it, while the rest of the data continues to install in the background. Our test was how long it takes to launch the game from the time you insert a disc, with a normal console connected to the internet.
We tested six multiplatform games on both consoles and every time, the PS4 was under a minute while the Xbox One install was several minutes long and required downloading an update before beginning the installation. When you include downloading those updates for each Xbox One game that happen in the background on PS4, the install times can get as high as fifteen minutes before you can even launch the game.