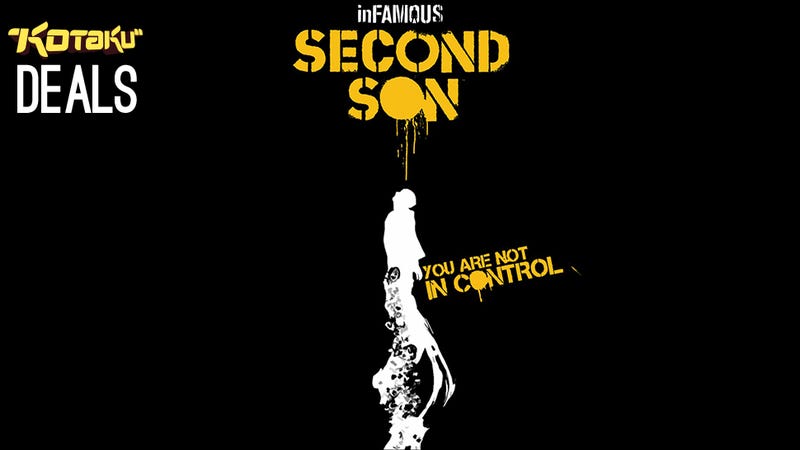 Pre-order your copy of Infamous: Second Son today and get a $25 Dell gift card thrown in. Obviously you'll have to spend that $25 on something Dell sells, but as you can see they do sell games. [Dell]
---
Thanks For An Awesome Year, Here's To Many More
A year ago today, not entirely sure how to describe the job I'd just been hired for, I rebooted the "Kotaku Moneysaver." We've come a long way since then, and I don't have any reservations about saying we now have the best gaming deals coverage on the Internet. We couldn't have done it without you, so thank you for reading, clicking, commenting, giving us feedback, and generally being people we love to help save money and discover new products. Don't forget to catch our content on Gizmodo, Lifehacker, io9, and on Twitter and Facebook as well. See you in the comments.
-Shane
---
Get 15% off any one item at Gamestop
Use code PAYPAL15 to get 15% off almost anything at Gamestop, combine with code SAVER for free shipping. This obviously isn't going to work on consoles, but will work on pretty much anything else, including pre-orders and collector's editions. This is one of best coupons a console game retailer has ever offered. [Gamestop]
---
The Humble eBook Bundle 3 is here featuring up to 6 eBooks and an audiobook from authors like Cory Doctorow and Yahtzee Croshaw. Beat that average. [Humble]
---
---
Disney's Frozen is available today and the pre-order price is still available. Walmart has two exclusive sets featuring Elsa and Ana Disney Infinity figures, but both are sold out online, and you may have trouble finding them in store. Best Buy is also sold out of Frozen online. [Amazon]
---
refurb Roku 3 | $70
---
Everyone needs a decent set of computer speakers, and this 4 star-rated set from Logitech delivers excellent bang for the buck at just $13 today.
---
This is one of the cheapest prices we've ever seen on a 4TB external. Grab one before they're gone.
---
Monoprice's 5.1 channel home theater speaker system is one of tech's biggest bargains at $91, but today, you can get the entire set for only $75 from Rakuten. If you have even an inkling to set up surround sound in your home, this is a no brainer. If you're a frequent Rakuten shopper, be sure to use promo code SUPERTECH for some extra points as well.
Pickier consumers may prefer the Energy Take 5.1 Classic Home Theater System, on sale today for $300. This system carries excellent user reviews and a Wirecutter recommendation, so you can't go wrong.
---
---
The Panasonic Arc 4 finished second in Gizmodo's ranking of the best electric razor, and today represents a rare chance to score it for under $100 on Amazon. The step-up Arc 5 model is also on sale today, and adds an extra blade, multi-flex pivoting head, and an automatic cleaning and charging system.