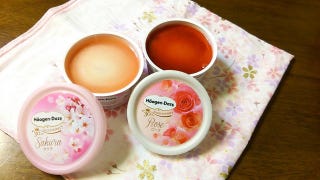 This month, Häagen-Dazs is releasing two special flavors in Japan to mark its 30th anniversary in the country. And, let me tell you, they look pink. But special Häagen-Dazs flavors are not new to Japan.
The anniversary flavors are "Sakura" (which is Japanese for "cherry blossoms") and "Rose" (which is English for, uh, "rose"). The Sakura ice cream tastes like sakuramochi. Here, have a look:
You'll be, perhaps, saddened to know that people on Twitter are saying the Rose flavor smells like bath powder or toilet freshener. Others say it smells and tastes good.
Häagen-Dazs releases unique flavors in the West, such as Peanut Butter Pie, Peppermint Bark, and Coconut Macaroon—which don't quite translate to Japanese tastebuds. And while Häagen-Dazs hasn't quite hit the unique flavor quotient that Kit-Kat or Doritos has in Japan, it has released some interesting tastes. Most of them, however, are standard fare!