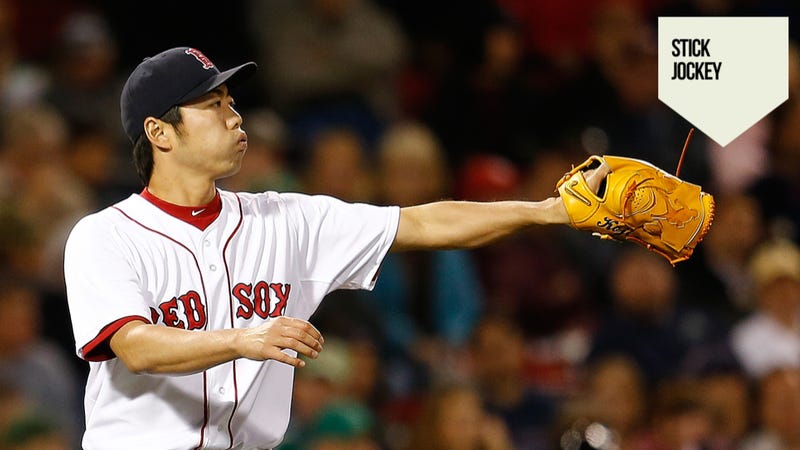 Trailing four runs in the bottom of the ninth inning, it was apparent the Yankees were already thinking about room service. Koji Uehara, the Boston relief pitcher, barely needed the free-swinging help to extend his personal equivalent of a perfect game from 11 innings to 12 on just nine pitches.
The 37 straight batters Uehara retired is a club record, and I saw the last one, in person, on Friday the 13th. Just about every feature of the moment is reproducible in the medium where I ordinarily consume baseball—MLB The Show on the PlayStation 3—with a big exception: How Uehara got the opportunity for such a milestone in the first place.
Uehara was a starting pitcher in Japan—he's the third Sawamura Award winner to pitch for the Red Sox, which has to be some kind of record now that I think of it. When he opted to come stateside, that is the career path he chose with Baltimore, where he and his family still maintain a residence during the season.
Bad luck in 2009 turned into his good fortune this year. Injuries sent Uehara to the bullpen for 2010, and made him trade-able to Texas the following year, and to Boston where he was given an unglamorous relief assignment at the beginning of the year. When Joel Hanrahan and Andrew Bailey, both former All-Stars (and Bailey the 2009 Rookie of the Year) pulled up lame, Uehara got his second bite at the apple as the Red Sox closer.
All sports video games feature some sort of advancement out of a depth chart, and injuries also are a part of a long season. But the games never convert your position or change your role unilaterally based on these factors, even if that happens all the time in the leagues they mimic. The most drastic thing I've ever had happen to me is an unexpected trade, occuring just once, in MLB the Show. Some games, such as the MLB 2K series, take that possibility off of the table outright.