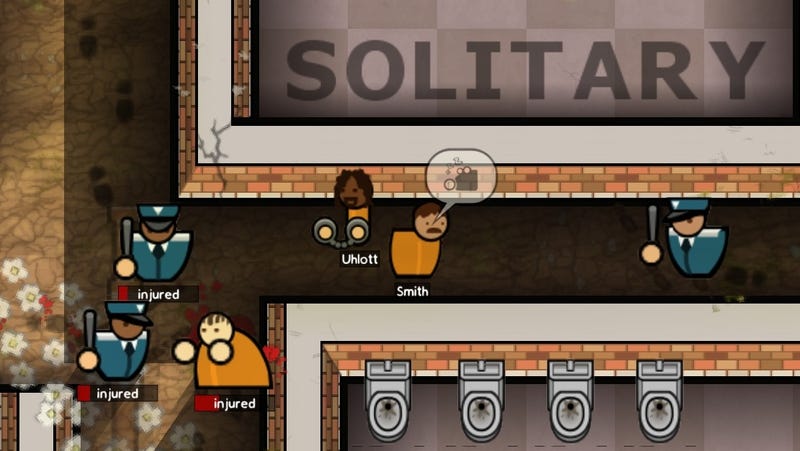 The most interesting decision a video game has given me the opportunity to make this year involved the interior decoration of a prison. The choice, which I was presented just yesterday: Did I want to put a window in the cell of a man on death row? Or save the money? Either way, he was going to die the next day.
I was playing a game called Prison Architect, a game that, in a world without trademarks, would be called SimPrison.
Using my computer mouse, I had just built an execution chamber. The death room was a new addition to a sprawling, virtual prison animating across my computer screen.
I had plopped an electric chair in the execution chamber. I'd tested the power supply to ensure that the using the chair wouldn't black out the rest of the prison. The chair worked fine. The lights in the prison would stay on.
I had built a small cell just outside of the execution chamber. The man on death row was going to spend the last day of his life there. So would other men when their time came. I put a toilet in there, too. I checked the plumbing. The toilet flushed.
All that I had done up to that big decision moment about the window had been required by the game. I was simply playing Prison Architect's tutorial, which was merely—right?—teaching me how to build parts of a prison. As with any other video game tutorial, I'd see a prompt, note a task, do the chore, check the box.
Building a window was an optional part of the tutorial. It would cost $200 in fake video game money. I could easily afford it. I had thousands.
I paused.
I thought about it.
It's not a real prison. This isn't a real guy. It doesn't matter what I do. It's just a window.
But who am I?
Am I the kind of person who thinks prisoners shouldn't have windows in their cells? Wait. Is that a kind of person? Is a person who doesn't put a window in the cell of a guy who is about to be executed a, what, bleeding-heart liberal? An optimist? A fool? A human being? A wimp?
I'm the kind of gamer who likes doing sidequests and checking off unchecked boxes. So I built the window. The gamer part of me had decided that decision. I'd sidestepped my way out of a cloud of moral confusion.
My death row inmate, a man who had murdered his wife and the man with whom she cheated before turning himself in, would see the sunrise through a pane of glass. Then he'd fry.
This is the kind of game I want to play, I realized. I'm in the mood for a game without easy answers. I'm ready once again for a game that feels grown up.
***
Early last month, I spent several hours playing SimCity, a game that lets you build and manage a city much the way Prison Architect lets you build and manage a prison. The game didn't work very well at launch, but when I could get it to play, I had fun. I had fun zoning residential districts and connecting them, with grand avenues, to shopping districts. I had fun building a school system and fun starting a new city that would be centered atop an aggressively-mined deposit of coal.