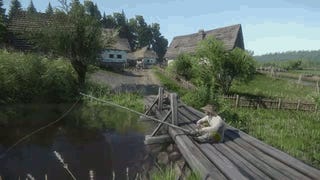 Look at the colors. So peaceful. So pretty. Well, until they burn a witch or two.
In their most recent dev diary, the folks behind alt history RPG Kingdom Come: Deliverance gave several demonstrations of what normal day to day town life looks like in their game. Have a look:
While I adore Skyrim, aesthetically speaking, I was never a fan of its towns and villages. There were exceptions (Solitude comes to mind), but to me, most of them felt cramped, washed-out and, I guess, a bit too bleak (even for a war-torn, dragon-ravaged country).