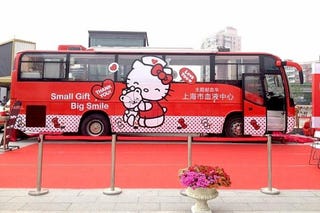 Recently, a Hello Kitty bus rolled up in Shanghai, China with one thing in mind: Blood.
Of course, what's apparently the world's first Hello Kitty blood donation vehicle is all for a good cause as there is nothing in the least bit sinister about Hello Kitty. Nothing. Nothing at all.
Kidding! Sorta! As reported by various Chinese sites, the inside of the bus was even decked out in Hello Kitty. It was designed to appeal to younger adults in the hopes that they'd be more inclined to give blood. And that's a good thing.
上海举行"世界献血者日"纪念活动 [China Daily]