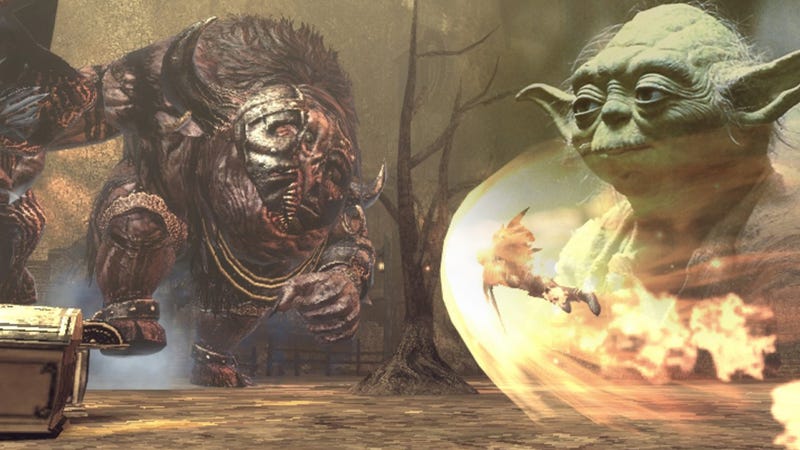 I remember watching The Empire Strikes Back, when Luke was training on Dagobah. At one point, he looks over his shoulder at Yoda and asks, "Is the Dark Side stronger?" Yoda, in his ever-wise (at least until the prequels) way answered firmly, "No. Quicker. Easier. More seductive." I kept remembering those words pretty much through the entirety of my play of Soul Sacrifice.
Soul Sacrifice is the latest game from the mind of Mega Man creator, Keiji Inafune. The game places you the player as a prisoner to the powerful mage, Merlin, awaiting your eventual demise at his hand. Through a twist of fate, or perhaps sheer coincidence, you manage to obtain the living book, Librom. By reading through the pages of Librom, you experience the stories written within, which take place in the form of a hunting action game, and slowly the the origins of the evil mage Merlin and a story of sacrifice and salvation. Very conflicting stuff. And by the end of it, that's how I felt about the game.
Good - Gameplay:
Looking over the basic gameplay, you get an idea of what the meat of the game is like. Overall, it's a well put together action game where you battle various monsters of varying sizes and shapes. You start out with a few basic spells and by clearing missions, you can obtain different and potentially more powerful spells. You can only equip 6 spells entering a mission and each spell has a limited number of uses in a mission (after a mission is cleared, unless completely depleted, spells regenerate all uses). You can replenish your spell uses by either sacrificing a defeated enemy (see below), or by finding and using a recharge point in the field. Spells can be upgraded, but as a general rule of thumb, the more powerful the spell, the fewer uses it has. Enemies also have different strengths, weaknesses, and general methods of attack. This leads to an added strategical element in which spells to take with you on which mission.