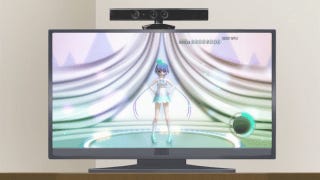 Games and game systems pop up semi-frequently in anime. But given the utter failure of the Xbox 360 in Japan, I was more than a little surprised to see a Kinect in a recent episode of lesbian romantic comedy Sakura Trick.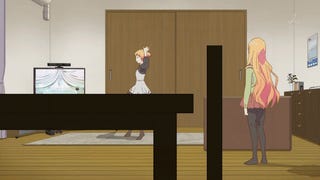 In a scene in the eighth episode of Sakura Trick, sporty girl Yu is shown playing Konami's Dance Masters on a Kinect. More than that, as a kind of meta joke, she is actually dancing to the series' own theme song.
While she is obviously using a Kinect, the console she is using isn't an Xbox 360. Rather, the system shown looks more like the bastard lovechild of a 360 and a Wii—to avoid legal issues, no doubt.
Now, it should be said this is not the first time I have run across a Kinect in an anime—the development and release of the Kinect was a plot point in last summer's Hyperdimension Neptunia anime, after all—but it is the first one I have seen in an anime that is not game-related. And with the release of the Xbox One still months away here in Japan, I was more than a bit surprised to run across the aging Kinect at so late a date.