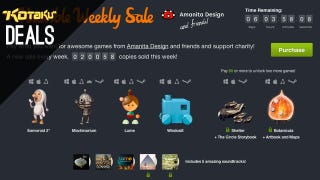 The new Humble Weekly Sale is on, asking you to pay what you want for Samorost 2, Machinarium, Lume, and Windosill. Pay $6 or more, and you'll also get Shelter and Botanicula. A portion of your payment goes to charity, so get to it!
---
If you want to seriously upgrade your living room, here are a couple of great deals on high end TVs. The Seiki will set you back a little over two grand, but as a 4K set, it's totally future-proof. The AQUOS has never been cheaper than $980 until today, and has excellent reviews across the board.
---
If you have a 3DS, and you haven't bought this game yet, you should fix that. If you don't have a 3DS, you might want to get one just to play this.