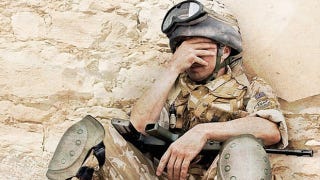 Like the action movies of the 1980s, mainstream video games view war through a pretty rose-tinted lens. Even when big budget military shooters make an effort with the narrative, war is regularly presented in games as a singular event: 'a war' rather than 'war'; something that parachutes you in for the opening chapter, runs you through 6-to-10 hours of tightly-wound, linear plot, and brings everything to an explosive, heroic conclusion.
This post originally appeared on Kotaku UK.
The challenges we face as players are material and easily quantified: we have something to blow up, something to stop from being blown up, some specific person or persons to kill. When we're asked to engage emotionally, big shooters paint in broad strokes. Maybe they'll treat us to a long shot of an iconic landmark collapsing, or perhaps a main character will die, in slow-motion, and set to a quartet of tortuous violins, to telegraph that heartstrings are being tugged. But the experience, overall, is compartmentalised. The heroes head out, the heroes come back, and that's the end of the story.
Over the last console generation, that formula has come to define war games as a genre; entertainment products primarily concerned with goodies shooting baddies. Trying to use games to look at anything more than the glorified surface level of military service can be construed as insensitive, or a cynical use of shock for shock's sake. Whatever the reason, games that centre around soldiering have, in the main, failed to achieve much more than Rambo.
WILL Interactive, a developer based in Maryland, USA, is a welcome exception to that rule. It's a company that makes war games without the war: interactive, live action films with strong casts and TV-level production values that are designed to explore the challenges of war off the battlefield; not for entertainment, but to help new recruits, returning veterans and their families and employers deal with the psychological tolls of military service.
The remit is wide. WILL develops programs that teach players how to cope with and spot the symptoms of post-traumatic stress disorder, deal with sexual harassment both at home and on base, how to reintegrate soldiers into civilian life and even how military families should manage their household budgets. The training is comprehensive.