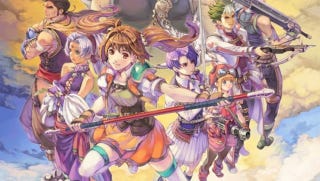 There are a lot of big, highly-anticipated games coming out next year: Watch Dogs, Titanfall, Dragon Age Inquisition. But in certain circles, there's only one game worth counting down the days for: The Legend of Heroes: Trails in the Sky SC.
That oddly-titled game is the second of a trilogy and the sequel to the first The Legend of Heroes: Trails in the Sky, which came out for PSP in 2011. SC, which stands for "second chapter," will be out on PC and as a digital release on PSP next year. Finally. SC has become something of a white whale for JRPG fans over the past few years, and getting it out in the States has been a massive headache for XSEED, the U.S. publisher behind both games.
See, when XSEED first announced plans to bring Trails over from Japan, they promised to release the entire trilogy in North America. That was an ambitious goal, made more difficult by both a time-consuming localization process and unimpressive sales for the first game. Worse, they were working with these games on Sony's PSP, a console that was already on its last legs.
But they couldn't just stop with game #1. The first Trails ended with an explosive cliffhanger that left fans going nutty, to the point where every new XSEED announcement led to a barrage of comments asking "Where's SC?" (At one point, I may have threatened to chain myself to an XSEED E3 booth until they announced the game.)
In September of this year, XSEED finally dropped the bomb: they'd struck a deal with a two-man company called Carpe Fulgur, best known for localizing the adorable PC game Recettear. Carpe Fulgur would translate and edit SC's massive script, and XSEED would publish the game.