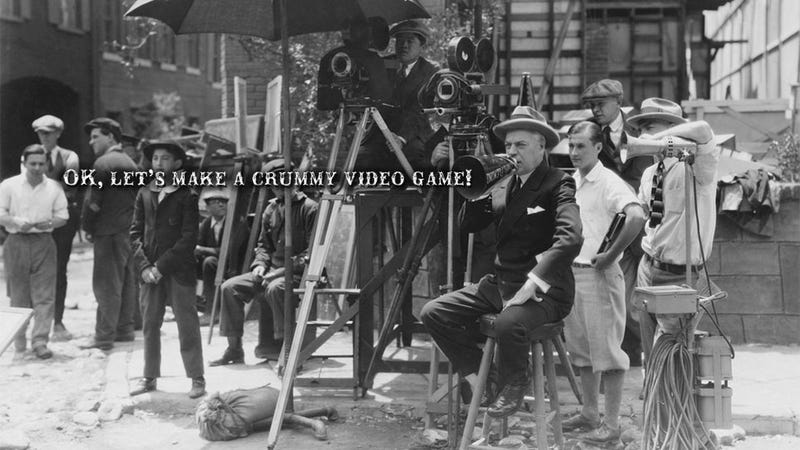 As mainstream video games strived to be more cinematic and as gaming emerged as a major source of entertainment revenues, it was only a matter of time until the talent from the film industry would attempt to get in on the action.
Such a thing has indeed happened numerous times. For whatever reason, it typically has not worked out.
But let's start with an exception.
The most obvious example of Hollywood talent getting gaming right a large percentage of the time is George Lucas, who was way ahead of the curve when he founded Lucasfilm Games (later known as LucasArts) in the early 1980s. Over LucasArts' storied thirty year history, the company left its indelible mark on the industry through countless Star Wars titles and unforgettable adventure games like Monkey Island, Full Throttle, and Maniac Mansion that conveyed an unabashedly unique design sensibility.
LucasArts' story is a rarity.
The following set of stories is an attempt at collating all of the attempts of director-gaming collaborations that, for whatever reason, did not work out. This particularly focuses on Western-developed games with talent whose primary experience lies in the live-action/non-animated film sphere. I have no doubt I have missed a number of Japanese-developed collaborations that fell through.
Many of these projects may seem misguided or magnificently mediocre, but there are some gems here and at least a couple of games that probably would have been fun to play.
Steven Spielberg and Nora Ephron's "That's Life"
In a section of her book The Men Who Would Be King: An Almost Epic Tale Of Moguls, Movies, and a Company Called DreamWorks, journalist Nicole LaPorte gives an account of the early days of Steven Spielberg's DreamWorks Interactive — including an unannounced mid-90s collaboration with the late writer-director Nora Ephron. As LaPorte explains, Spielberg was intent on using his then-nascent interactive division to expand the horizons of the gaming medium beyond a focus on "adrenaline," and reflect the sort of genre diversity found in the average movieplex.
The inclination to diversify games led Spielberg to devise a concept for a game called That's Life, which LaPorte described as a title along the lines of The Sims "that hinged on the basic interactions and decisions made during the course of a regular day (taking out the trash, making lunch, going out on a date)." LaPorte says this was so alien to DreamWorks Interactive staffers used to action-heavy titles that "Spielberg might have as well proposed making a video game based on The Bridges of Madison County." Industry legend Noah Falstein told LaPorte he found the idea of virtualizing mundanity to be absolutely absurd, and remarked in the book that he thought the idea "was only really appealing to people like Steven Spielberg, who are so famous that they never have to go to the grocery store or wander around in the streets."
Spielberg thought his Hollywood friend Nora Ephron, fresh off the hit film Sleepless in Seattle, would be the perfect fit for fleshing out the emotional and relational contexts of the game, so he hired her for the game. Alan Hartman, another early DreamWorks Interactive staffer, told LaPorte he found Ephron amiable in their interactions but got the sense that she agreed to work on the game only because Spielberg asked her to. Issues quickly arose: Ephron, used to writing for linear media, was not accustomed to a game requiring branching narratives and much more dialogue than a typical film script. As time went on, she became more interested in devoting her energies to her next film, the John Travolta angel fantasy-dramedy Michael.
---
Spielberg thought his Hollywood friend Nora Ephron, fresh off the hit film Sleepless in Seattle, would be the perfect fit for fleshing out the emotional and relational contexts of the game.
---
Ultimately, That's Life fizzled, and DreamWorks Interactive pursued another Spielberg concept, which became Medal of Honor.
Steven Spielberg's "LMNO"
In October 2005, about a decade after That's Life's cancellation and several years after Spielberg sold DreamWorks Interactive to Electronic Arts, EA struck a deal with Steven Spielberg "to create three new original franchise properties" with the teams at Electronic Arts' Los Angeles studio, which was created from the DreamWorks Interactive sale. (At the time, EALA also employed Spielberg's son Max as a level designer.)
Only two of those three intellectual properties entered development, and only one of the IPs was actually released — the Wii physics puzzler Boom Blox, which spawned one sequel. The other title, codenamed LMNO, was another attempt at pushing the emotive boundaries of the interactive medium: then-EALA studio head Neil Young said in a 2005 interview following the deal announcement that he hoped this title could resolve whether a computer game could make a person cry.
Writer Matt Leone exhaustively chronicled LMNO's troubled development in a fantastic 2010 1UP piece. To head up LMNO, EA hired famed game designer Doug Church, known for his lateral-minded game development philosophies. Randy Smith, who worked alongside Church at Looking Glass Studios, was lead designer on the project. In the first iteration of LMNO led by Church, the title was "a first-person action-adventure" with a contemporary setting somewhat along the lines of Mirror's Edge.
---
Leone says designers "wanted to make a game that lasted two or three hours, but could be replayed with a lot of variety each time."
---
The game revolved around the relationship between the player-controlled character Lincoln and a mysterious AI companion Eve. Designers spent a long time trying to perfect complex AI technology for Eve that would transcend typical in-game scripted responses and allow for her to react dynamically to gameplay situations and player actions in a manner that could meaningfully change in the relationship between the characters and the game's trajectory.
Rather than a lengthier AAA experience, Leone says designers "wanted to make a game that lasted two or three hours, but could be replayed with a lot of variety each time," though there was "doubt" among the team that executive-level staff, who were concerned with having enough content to counter used game sales, would approve of the idea.
Leone's sources suggested to him that LMNO was "perpetually in a prototype state" and did not get very far along the development process. The team at EALA worked with Arkane Studios to develop a fully formed small slice of the game.
After two years, the LMNO team only really had one small diner scene, much to the chagrin of those outside the team. In mid-2008, Neil Young—perhaps the primary advocate of LMNO within EA's organization—left EA to found mobile publisher ngmoco, placing the project under the scrutiny of EA executives.
EA ultimately elected to lay off most of the LMNO team as part of its fall 2008 layoffs, but Leone says management "kept a skeleton team of under 10 people around for a few months while deciding what to do with the concept." Church left EALA in early 2009, and executives opted to initiate a reboot of LMNO as "The Escape Artist," a more standard combat-heavy, third-person shooter along the lines of Uncharted. Leone says "The Escape Artist" spent about a half-year in development before EA opted to cancel it as part of a larger strategic decision to reorient the priorities of EA's costly Los Angeles studio.