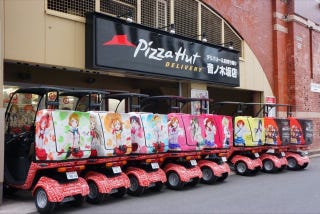 A Pizza Hut in Tokyo looks, well, not quite like the other Pizza Huts in Japan—or anywhere else, for that matter.
Starting today, the branch in the Kanda neighborhood has morphed into the "Otonokizaka branch" in honor of popular anime/manga Love Live! This particular Pizza Hut serves Akihabara, which is the city's geek and electronics district.
Love Live! follows the adventures of schoolgirls who become idols to prevent their beloved school, Otonokizaka Academy, from shuttering.
The delivery motorcycles are wrapped in the schoolgirl characters, and pizzas come in special, limited-edition Love Live! boxes.
It seems as though this whole thing might have been inspired by Domino's Hatsune Miku campaign in Japan. Perhaps!