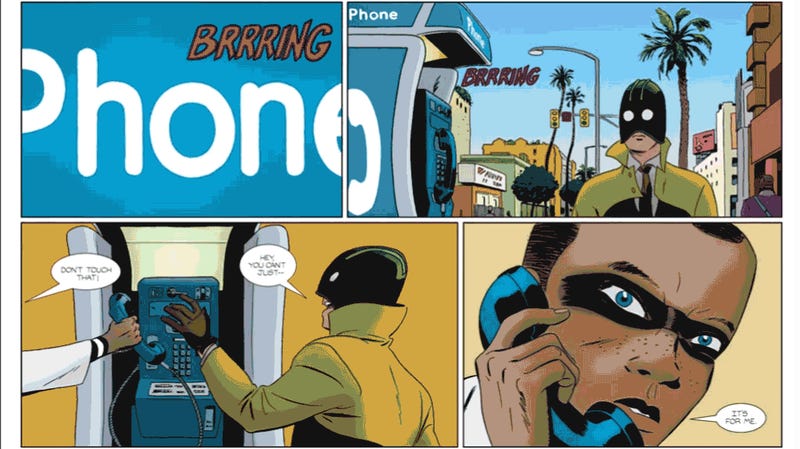 These might be the most important words in comics: "Hey, have you read that?" The medium's lifeblood has always been the word-of-mouth that passes from one reader to another. The only query that might surpass the above is "So, what'd you think?"

Here's where we put the discussion into Panel Discussion. Of course, we want to hear from you. Please join us in the comments below.
---
This week, pop culture crtitics Douglas Wolk, Graeme McMillan and myself talk about The Private Eye #2 and Julio's Day. One happens in the near future while the other takes place over the last century but people have things to hide in each comic. Read on to see why we think is good or problematic about each work.
Evan: So we've got Private Eye #2 by Brian K. Vaughan and Marcos Martin and Julio's Day by Gilbert Hernandez on tap this week.
Graeme: Two very different comics, those two.
Douglas: That is very true.
Graeme: Let's start with the beautiful, garish Private Eye.
Evan: Yeah, garish. That's a great way to put it. I love how the book fuses all these familiar genre elements: a flying car straight out of Steranko S.H.I.E.L.D., a Cthulu mask, brass knuckles out of a Mickey Spillane story.
Douglas: I really, really like The Private Eye. I can't describe its concept as easily as I can describe other Brian K. Vaughan comics, but I love the LOOK of it—Marcos Martin is one of those artists who aren't nearly as well known as they ought to be, but he's SO good at playing with the page's space, and he's gotten right into the groove of landscape-format art.
Graeme: Douglas, doesn't this seem like a series that's far more ABOUT the visuals than any other BKV comic? The writing in it is very sharp (of course), and I love the genre mash-up, but this is ALL about the art for me. And the colors. I can't imagine this in print, the colors are so vibrant.
Douglas: And I love the old "do the worldbuilding first, then don't explain it and let readers figure it out as they go along" trick. I don't think Vaughan's done that before—even Saga tends to be very easy to grasp—and I'm enjoying going back over the first two issues and puzzling it out.
Graeme: I feel like this second issue benefited from not having the info dump of the first.
Evan: And Martin seems to have down a subtle shift in the framing in this issue. The first issue had more wide-angle shots—better suited to the world-building—and this one was more close-ups and talking heads.
Graeme: As if BKV got that out the way and was then comfortable enough to leave everything else to us.
Douglas: Side note: I'm very happy to see people who've done a lot of mainstream comics doing stuff on their own, online, and figuring out how to get paid for it—see also the Lady Sabre Kickstarter that's doubled its initial goal in about a week.
Evan: Douglas, I spoke to Rucka about that very topic last week.