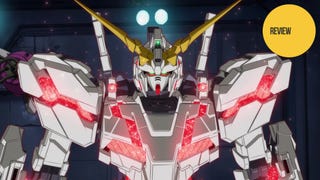 Originally started four years ago as a six-part anime movie adaptation of a novel series, Gundam Unicorn has finally reached its conclusion with the 7th and final chapter, Gundam Unicorn 7: Over the Rainbow.
[Note: While original planned for 6 parts, due the massive amount of remaining content, the creators announced a 7th episode to the series shortly before the release of episode 5 in 2012.]
As we have been doing with previous anime movie reviews, Kotaku writers Toshi and Richard are here to look at the Gundam Unicorn series as a whole, including
Toshi: All right, so, what exactly is Gundam Unicorn about?
Richard: Well, the same thing every Gundam is about: a young boy stumbling into a giant robot and saving the world.
Toshi: I think people are going to need a little more detail than that…
[Note: Minor spoilers about the basic set up of the plot follow.]
Toshi: Three years after the events of Char's Counterattack, the Neo Zeon remnants known as The Sleeves (stop laughing), led by the enigmatic "second coming of Char the Red Comet," Full Frontal (I'm serious, stop laughing), have been contacted by Cardeas Vist of the Vist Foundation saying that he wishes to hand over the key to the "Box of Laplace,"—a mysterious "box" that is said to be able to bring about the destruction of the Earth Federation if it is opened.
Banagher Links is a student at the Anaheim Electronics Industrial College at the space colony, Industrial 7. Banagher meets Audrey Burne, a young girl intent on stopping the transaction between Cardeas and the Sleeves; and through a series of events, Banagher becomes the pilot of the key of the Box of Laplace, the Unicorn Gundam. Banagher must follow the path set out for him by the Unicorn Gundam to find the Box of Laplace and uncover the most deeply guarded secret of the Universal Century.
Richard: Yeah, like I said. A boy and his giant robot.
Toshi: … All right. A boy and his giant robot. So, I've covered the basic knowledge you're going to need entering the Gundam Unicorn series. But one more thing, how familiar are you with the Universal Century (UC) universe?