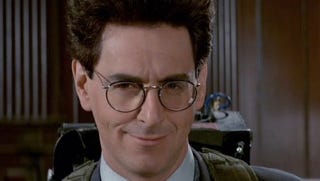 Early on in Ghostbusters, Peter Venkman gets slimed by a class five full-roaming vapor. His colleague Ray finds him lying on the ground, groaning and covered with snotty green ooze. "I'm with Venkman," Ray breathlessly natters into his walkie-talkie. "He got slimed!" "That's great, Ray," Egon responds. "Save some for me."
I always loved that line. And I always loved Egon Spengler, played so perfectly by Ghostbusters co-writer Harold Ramis. That geeky confidence, those weird hobbies, that oddly foxy grin. Egon was so cool.
Harold Ramis died today at the age of 69, succumbing to complications related to a rare autoimmune disease. He is gone too soon, leaving behind an incredible body of work and an undeniable, joyous legacy. He was a comedy genius, a brilliant writer and director, and a hero to nerds like me.
Upon hearing news of Ramis' passing, I, like everyone else, thought back on his legacy and what his work meant to me. Several of his early films, notably Animal House and Stripes, arrived several years before my time, though I would eventually come to love them no less than his other, later films. Both of those movies embraced ideals that would run through the core of Ramis' body of work: Root for the underdog. Believe in your friends, even if the world says you're all the worst. Get creative, be smart, and together you can win.