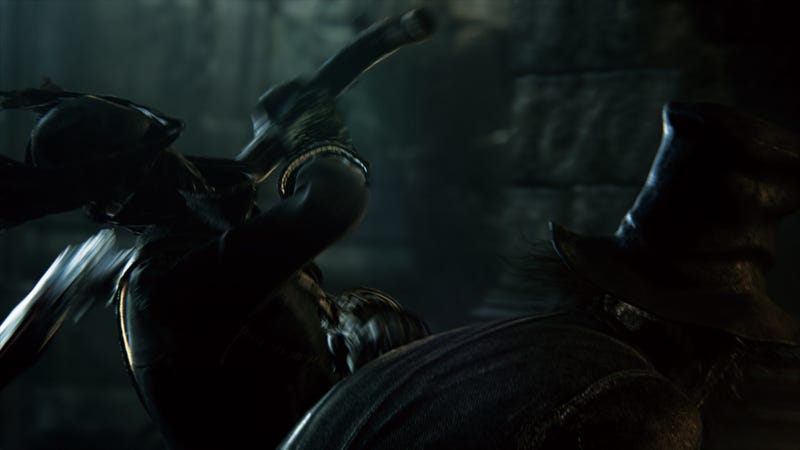 I would never say I was into horror games - I managed about 90 seconds of a YouTube playthrough of P.T. before tapping out, and even the cover art for The Evil Within is a bit much for me - but FROM's Souls series is the exception to the rule.
This post originally appeared on Kotaku UK.
They can be deeply disturbing games, certainly (Tower of Latria, anyone?), but their power to unsettle you doesn't come from shock value or gruesome imagery. Souls director Hidetaka Miyazaki's idea of horror is predicated on survival, mortal danger, and the fear of the unknown; it is built with subtle sound and darkness and mounting trepidation. Despite the name, Bloodborne doesn't go for gory horror. It goes for subtle terror instead, leaving fear to ferment in the dark places of the imagination.
Back at E3, where Bloodborne was first revealed, it seemed so close to a Souls game it was spooky. The lonely echo of footsteps on stone, the moaning and screaming of monstrous foes, even the animations - all were drawn straight from the existing FROM Software design playbook. The setting and fiction and aesthetic design differed significantly from either Demon's or Dark Souls, but a lot of the basics seemed extremely similar. And they are similar, clearly, at least superficially - but actually playing Bloodborne reveals changes to the combat and rhythm of play that are hugely significant to anyone intimately familiar with Demon's or Dark Souls.
I played through the same demo that was shown at E3, a gothic town gone to ruin filled with shambling undead townspeople in battered top hats and cloaks and capped with a uniquely distressing skeleton-goat boss. You can watch it above, or read about it right here. The regain mechanic is the most significant change. All the on-screen meters and bars and numbers in Bloodborne are very familiar - health, stamina, items and weapons. But the health bar is a little different. When you get hit, it leaves a yellow trail in the bar, rather like in Monster Hunter - and you can win your health back by countering with your own attack. If you get taken by surprise, then, you can make a comeback. You stand a chance at regaining your health with quick reactions and daring.