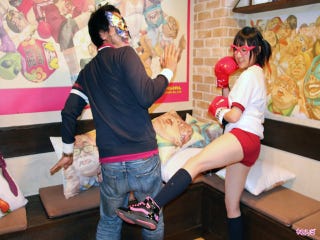 Some cafes serve good coffee. Others have delicious sweets. For the next three days, this cafe will dish out pervert attacks.
Located in Akihabara, Tokyo's geek district, Cure Maid Cafe is being converted into Punishment Cafe (おしおきカフェ or oshioki kafe) for the next three days.
This is part of a promotion for iOS game Punishment Punch Girl (おしおきパンチガール or Oshioki Panchi Gaaru). Noritaka Funamiza, who used to work on Street Fighter, oversaw the game's development.