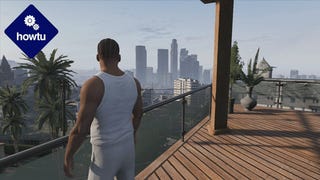 Much of the joy of Grand Theft Auto V comes from a sense of freedom, of exploring an entirely different world. The story missions are fine, the heists are neat enough, but the bustling state of San Andreas is the game's crowning achievement. Too bad it's far too easy to run through it and miss the best stuff.
Often, I find myself playing Grand Theft Auto games impatiently. I drive from mission to mission pell-mell, blowing through intersections to the nearest marker on the mini-map. When I get out of my car, I run to get where I'm going. I don't linger; I hurry.
As I run around like a chicken with my head cut off (GTA V is Rockstar's latest salvo in their ongoing war against my Xbox's A button), the hustle and bustle of Los Santos becomes a din. The city feels heightened in that way that GTA games' cities tend to feel, so jammed with stuff that I couldn't possibly hope to process it all. And so I don't process it; I tune out and focus on my destination.