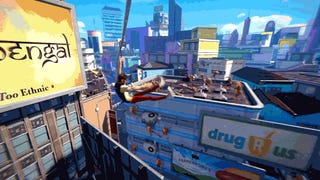 While we're still a month away from shifting into new consoles, already we can tell a few key things about what next gen will be all about. There will, for example, be lots of pretty weather effects. We will probably shoot lots of people in the face. Oh, and we'll probably play a ton games with and against each other, too.
If multiplayer gaming was big this generation, it's going to be even huger next-gen. You can tell just by virtue of looking at some of the biggest upcoming games for both the PlayStation 4 and the Xbox One—many of them have have some sort of multiplayer functionality from the get-go (or look like they do—some titles are early enough in development that we might not find out if that's the case until months from now).
Let's take a look at some of the cooler multiplayer or co-op games we can all look forward to, shall we?
Sunset Overdrive
Ah, the first item on the list and it's not even technically confirmed for multiplayer. Judging from this bombastic teaser, though, Insomniac Games—the developers behind the title—is developing a post-apocalyptic title that eschews the aesthetics of most games of its ilk. Sure, you're shooting mutants at what (seems to be) the end of the world, but that doesn't mean everything has to be draped in greys and browns. That's a good thing, because the visuals here are damned striking.
Gameplay-wise—assuming this teaser accurately represents the game at all—it seems like we can look forward to a game that allows us lots of free movement (parkour, perhaps?), emphasis on verticality in the level-design, and yes, the ability to kill mutants with our friends. Excellent.
Tom Clancy's The Division
What is it with Ubisoft and the exploration of the bleak near-future lately? Heh. Well, if nothing else, The Division—an online, open-world multiplayer shooter—looks like it's going to be fantastic for those that love playing a game that requires teamwork and cooperation (like say, Battlefield). Even optional stuff, like its iPad integration, seems catered to teamwork-based play: you can tag and damage opponents, as well as buff your teammates.