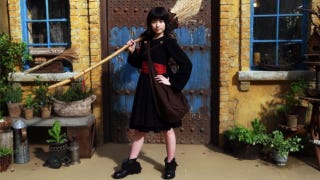 In Japan, they're making a live-action Kiki's Delivery Service movie. Today in Japan, a photo of Fuka Koshiba, the actress playing Kiki, was released online.
The photo was taken on the first day of the movie's principal photography in front of Kiki's house in the movie. So, I guess, that means this is the final costume.
And it's a horrible costume! Look at those shoes. Look at them. Also, why's her bag so damn dark? And where's the ribbon?
Online in Japan, some seemed upset that the movie Kiki doesn't have a big bow in her hair and trashed this press photo because of that.
Others noted that the movie cannot look too much like the anime, or Studio Ghibli, who's not connected to the movie version, might get upset. Some, however, said the movie version looked fine.