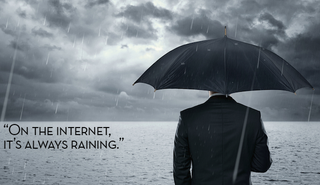 If you've spent much time online—playing games, talking on social media, using message boards—chances are you've gotten some abuse. Someone's called you a fag, or a dumb bitch, or suggested they might find out where you live and skullfuck you to death.
When that happens, we generally take it as a cost of doing business online. "It's the Internet," we say, licking our wounds and trying to focus on other things. "That's how it goes."
But that's not really okay. It's not a good enough answer, and on some level, we all know it. The Internet is where so many of us live, play, work, and socialize. It's an essential part of our lives, as "real" to many of us as any school or office or city street. Is it really okay that we've somehow passively decided, as a community, that this sort of behavior is par for the course?
In a new feature at Wired, writer Laura Hudson (disclosure: we're dating) has shared the results of months of research and interviews about online harassment. In it, she focuses not on harrowing stories of victims (believe me, there are plenty), but rather on possible solutions. She argues that long-term solutions won't be found just by banning trolls or removing the few most toxic members of a community. Rather, it's about a community deciding what its values and norms are, clearly communicating those norms, and giving community members the tools to help enforce them.