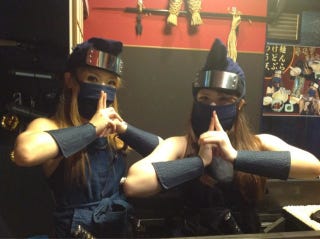 Men no Sato (麺の里) or "Noodle Village" is a female ninja, or kunoichi (くノ一), restaurant. The restaurant originally opened last year in Tokyo's Tachikawa, but recently announced it was reopening in nerd paradise Akihabara.
Below you can see photos of the different noodle dishes, as well as the staff in their seemingly Naruto-inspired kunoichi costumes.
Akihabara is overflowing with maid cafes, but Men no Sato doesn't look to be a threat: On 2ch, Japan's largest forum, commenters are complaining that the Men no Sato staff have dyed hair instead of naturally dark locks. Apparently, the dyed hair looks less "ninja" and more night club hostess. Some have also complained about the restaurant's gaudy looks.
"No black hair," wrote one 2ch commenter. "I give this restaurant three months." Never mind that ninja anime are filled with colorful-coiffed characters. Or that real ninja were very different from their popular culture counterparts. Or that the noodles look pretty good.