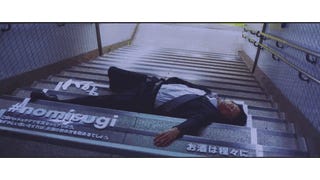 A Japanese bar launched a "drunk shaming" public service announcement. It seems fake, but what the video is promoting could get people in trouble.
According to Design Taxi, ad agency Ogilvy & Mather teamed up with Tokyo bar Yaocho to "shame" drunks. It's supposed to be part of a viral campaign, which you can see in this (possibly staged) video:
As you can see, the spot says, "We scoured the city turning sleeping drunks into human posters to get our point across. And we encouraged passers-by to share them under #nomisugi." The ad ends with "Risk becoming our next sleeping drunk billboard."
On Twitter and Instagram, there are only a handful of "nomisugi" ("drinking too much") photos. The people that appear in the photos appear to be the same ones in the video—and there's a good chance that those people are paid actors. The video as it was originally uploaded to YouTube has no disclaimer whatsoever.
Here is one of the photos shown in the clip, uploaded by Instagram user topfiverecords—or rather, Fede García, Creative Director at the ad company's Tokyo branch. Another photo featured in the video was uploaded by Twitter user Ankit Chota, who is the Senior Account Executive at Ogilvy & Mather in Tokyo. See where this is going? While the video doesn't have fine print saying this was staged, it does appear manufactured and calculated.
As a publicity stunt, this has worked. The spot has garnered publicity. Mission accomplished. I guess. But, at what price? Increasingly, PR agencies are becoming reckless with their stunts, seemingly not thinking about ramifications.