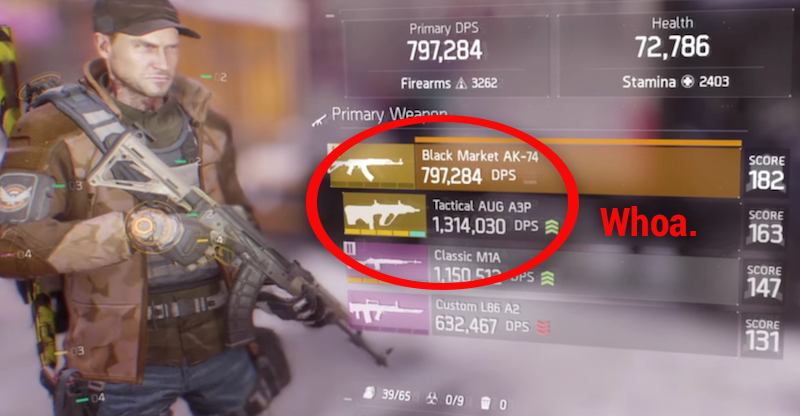 The Division has already been having a rough week, and things just keep getting rougher: A newly found exploit lets players temporarily boost their gun's damage output to game-breaking levels.

Update 4/21: Ubisoft has issued a couple of hotfixes, the second of which removed the talent-stacking bug from the game. Original story follows.
The exploit requires you to have a specific talent on your gun—the "Competent" talent, which briefly boosts DPS after triggering any ability. There's a high-end AK-74 with the talent for sale at the special gear vendor in the Base of Operations, so everyone with enough phoenix credits can access a gun that'll work.
Once you have the right gun, you simply have to equip it, then equip a different gun, then switch back again. Do that a bunch of times (like, for five minutes) and a bug will cause Competent's DPS boost to stack and build up. The next time you trigger an ability you'll get a ridiculous temporary leap in DPS from, say, 115,000 to 1,115,000.
YouTuber Simplified demonstrates the exploit in this video, complete with hilariously massive damage numbers as he shoots a few NPCs:
The possible applications are numerous—who wouldn't want the ability to temporarily turn their gun into a 1,000,000+ DPS murder machine? You could store up the ability before fighting a boss, or take it into the Dark Zone and one-shot anyone who messes with you. (The tests I've seen are all PvE, but I'm assuming this also works in the Dark Zone.) The exploit's presence is likely to keep a lot of people out of the game until it's fixed. Knowing there are people out there who can easily activate this kind of firepower certainly makes me even less interested in heading into the Dark Zone than I already was, at least.