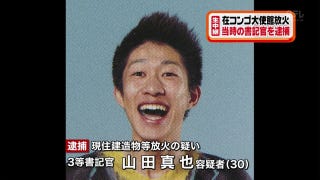 Thirty-year-old Japanese diplomat Shinya Yamada is accused of embezzling US$260,000 and torching the Japanese embassy in Democratic Republic of the Congo. Serious allegations. Leave it to the Japanese media to use a stupid pic.
As pointed out on 2ch, Japan's largest internet forum, Nippon TV used the above pic of Yamada, which appears to be from a high school year book.
The image also appeared blurred out.
But these weren't even the worst versions of the pic! Yoimuri TV used an image that showed off more of Yamada's yearbook body paint suit.
Certainly, there had to be better and more recent photos of the suspect, no? This is a truly goofy high school pic for a thirty-year diplomat arrested for grave deeds.
As previously covered, sometimes the Japanese media seems to troll accused criminals with its photo choices for news broadcasts.