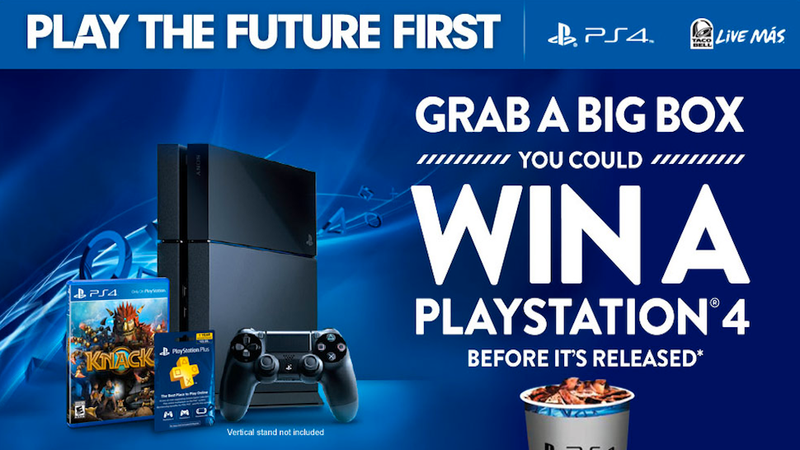 Remember last year, when a debacle of a partnership between Taco Bell and Sony left some PlayStation fans feeling cheated and misled? The two companies are partnering again—and the collaboration sure sounds familiar.
This time around it's a contest to win free PlayStation 4s:
The "Play the Future First" promotion runs in the U.S. from Sept. 26 to Nov. 10, and gives fans the chance to win the highly-anticipated PS4™ system before it hits stores nationwide on Nov. 15. During the promotion, each PS4 branded Taco Bell $5 Buck Box or Big Box – which includes a Cheesy Gordita Crunch or Crunchwrap Supreme®, a Burrito Supreme®, a Crunchy Taco and a medium fountain drink – will provide a unique code for consumers to text in for a chance to win a PlayStation 4 prize pack. The prize pack features one PS4 system, one copy of the exclusive PS4 game, Knack™, and a one-year membership to PlayStation®Plus (PS Plus).
If all this sounds familiar to you, that's because it's the same exact promotion that went awry last year, when Sony gave Taco Bell $5 Buck Box eaters the opportunity to win PlayStation Vitas. Sony customers who were told they had won Vitas never actually received their prizes in a nightmare that Taco Bell eventually blamed on technical issues. Meanwhile, hackers said they had gamed the system and figured out how to win Vitas without having to eat all those tacos. Some misled gamers eventually won their Vitas, months later, but the whole event was a disaster for everyone affected.