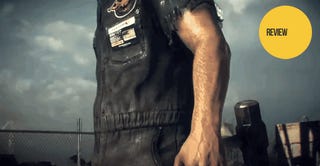 The real world can be a frustrating place. Stuck in traffic, trapped in line at the supermarket… it always feels like there's someone in the way. Certain games—the Grand Theft Autos, the Dead Risings—show us a world where it's okay to act on our worst, most violent impulses. Our forest of problems becomes a lawn we can mow, preferably with a flame-thrower attached to the mower.
And so comes Dead Rising 3, a video game for people who really like killing zombies in video games. It's a game about commuting to work and obliterating every moving thing in your path. It's invigorating and muddled, innovative and yet hopelessly mired in the past. It's well-designed, except when it's horribly designed, satisfying when it's not frustrating as hell. It's a very fun, very large game that you can only play on the Xbox One, but it doesn't take all that much advantage of the console's unique features.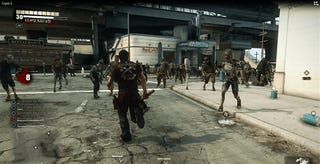 It's remarkable that the Zombie Genre A) is a prolific enough categorization to become a genre in the first place and B) is such a varied genre. Left 4 Dead is all about zombies and cooperation; The Last of Us and The Walking Dead are about zombies and feelings; Zombie Run is about zombies and physical fitness; Plants vs. Zombies is about zombies and, well, you know. And then we've got Dead Rising, which is about zombies on zombies on zombies, stacks of zombies all the way down.
Dead Rising 3 is a third-person action game in which you shoot, slice and sprint your way through a large open world, bypassing and vivisecting members of an ever-present zombie horde. The game is a race against time, with the story set on a clock that ticks forward slowly or terrifyingly quickly, depending on which game-mode you choose. It's covered in sidequests and collectables, and if you do more side activities and complete more of the game, you'll get a better ending. If you fail to complete enough missions and the clock runs out… not such a good ending.
The first Dead Rising was released exclusively for the Xbox 360, shortly after the console's launch. The characters all looked like wax mannequins and the controls were stiff as year-old jerky, but the game still managed to set itself apart in one crucial way: There were so, so many zombies on screen at once. It was a sandbox game set in the world's deadliest shopping mall, and it was one of the first Xbox 360 games that felt like something that wouldn't have been possible on the previous generation of consoles. Everywhere you looked there were hundreds of the things, a sea of zombies, groaning and shuffling and generally occupying the space between you and your goal.